Road Trip Diet: My Top 10 Roadfoods
Recently, I hopped in the car for a longish solo drive to a meeting in Western MA. While not technically a road trip, the familiar wafts of gas station coffee reminded me how much I miss being on the road!
We all know what it's like to pull long hours on the road…and how unhealthy roadside pit stops can quickly become.
After crisscrossing the country six times within 5 years (pre-smartphones!), and countless regional road trips, I've tested and refined my road trip menu enough that I think I can write a blog about it. And it might even be useful.
I have to give a giant shoutout to fellow Bad Girl and Author Cameron Tuttle, for inspiring my early love of Road Trips with her book The Bad Girl's Guide to the Open Road. Tuttle showed me the gore and glory of road tripping well before I could drive. (And I still carry a copy in my car!)
When you think of road trip food, you might think of a McDonald's drive through, burgers, fries, Snickers, and lots of Red Bull. But stop right there: if you eat like that while sitting on your butt in the driver's seat all day, you'll get yourself in big trouble in no time.
Are there healthy-ish, low-cost alternatives to the traditional trans-fat-filled road trip staples? Of course there are! You just need to know where to find them.
The key to a successful road trip diet is to balance fiber with protein, and limit sodium – Road Trip food can easily become full of simple carbs (white breads) and too many fatty, salty proteins, which is problematic if this is your diet for days on end. Add plenty of fiber, vitamins and liquids to the mix to avoid uncomfortable hours in the drivers seat.
1. WATER
This is first on the list for good reason –  never set out on the open road without at least a days-supply of water for everyone in the car. Rural desert roads with no cell phone reception and 120+ degree unrelenting sun can do some serious damage if you were to break down without any water, hundreds of miles from the nearest town. Stop at a supermarket and grab a big case of large water bottles with sport tops – or a couple 2.5 gallon jugs – for under $4.
Drink water slowly and constantly to minimize your bathroom pitstops, and to stay hydrated – chugging a bunch of water all at once will cause it to run through you faster. Don't try to avoid water – it's easy to get dehydrated without realizing it when you're sitting in a car for long stretches.
2. BANANAS, ORANGES, APPLES
Sold at almost every gas station, rest stop, and bodega coast to coast. Usually found near the checkout counter. There's no artificial additives, and packed with fiber and vitamins to keep you alert and feeling fresh. Save the bag and use as a trash can for your peels and cores.
3. A WHOLE BAG OF CARROTS OR CELERY
They don't need to be refrigerated and are easy to eat whole and raw while sitting at the wheel. Tack on a tub of hummus for dipping and this will hold you over for quite a while while adding fiber and vitamins. If you have a long late night drive and need to stay awake, try chomping on a loud crunchy carrot to keep yourself engaged.
4. STRING CHEESE
In moderation, string cheese, or small cheese wheels, are a convenient source of protein and calcium, and can hold you over for hours. They're sold at almost every convince store, gas station and rest stop – find it in the cooler area.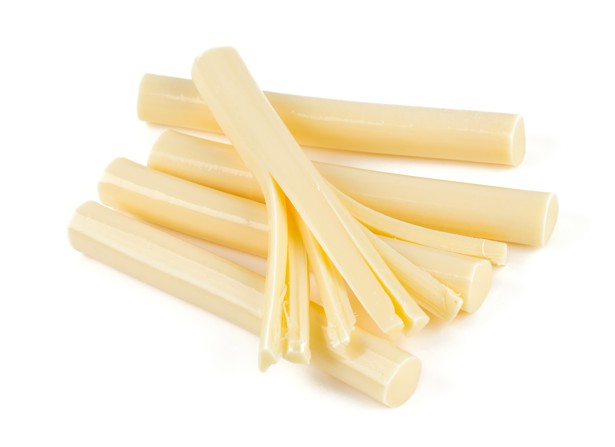 5. HARD BOILED EGGS
I know what you're thinking, but these are sold at gas stations and rest stops, near the string cheese and those pre-packaged sandwiches. They come 2 to a pack, pre-peeled, and you can have protein-packed eggs for breakfast, alongside a coffee and an apple. Much more nutritious than a gas station muffin.
6. UNSALTED NUTS
Too much salt can make you swell while you're sitting still in a car for hours or days-on-end. Your normal salt intake could become too much when on the road — when you're not breathing hard, moving, talking or sweating, you need much less salt than you normally do. Opt for unsalted nuts to add some fiber and minerals to your diet and minimize the excess salt-swell.
7. JERKY
Not slimjims, but real, authentic, locally made jerky. You can find this in rural areas where the cattle and buffalo roam (literally). It's usually near the checkout counter. The real stuff is rarely pre-packaged, and can be costly and full of sodium, so eat sparingly. Sometimes you just need some meat and local jerky is a low fat, carb-free alternative to a greasy burger.
8. GAS STATION COFFEE
Gas station coffee is in a category all it's own: If Starbucks is a poodle, Gas Station Coffee is a rottweiler. Stale .. cold .. scalding.. it doesn't matter because it gets the job done and it's your new best friend — and it rarely costs more than $1.50. Skip the sugar-filled energy drinks and opt for a bitter cup of black gasoline to keep you cruising and alert for the long-haul.
9. PEANUT BUTTER + LOAF OF BREAD
Normally, I am anti-bread, but when it's dinner time and the alternative is a greasy burger filled with mystery meat, reaching for a peanut butter sandwich will do just fine. At $2/ loaf + $3/jar at rest stops or super markets, you can't beat the price. A jar of PB and a loaf of bread can last days.  Opt for whole wheat to add more fiber and long-lasting complex carbs to your system.
*PRO-TIP* slather peanut butter on a slice of bread and roll it around a half a banana for an easy driving snack. This is the PB+B ROAD TACO.
10. EMERGEN-C
These little packets are sold at most gas stations, pharmacies and rest stops at the counter – near the gum and 5-hour energy shots. They run about 60¢ each, and will give you all the vitamins you need to stay in prime road tripping condition and keep your immune system in tip-top shape as you navigate shady motels, grimy gas stations and public bathrooms.
Looking for more road trip tips? Here are a few nuggets of wisdom from fellow road trippers:
With that, I'll leave you with a selfie I took 10 years ago, driving into the sunset, on my first cross-country solo road trip.